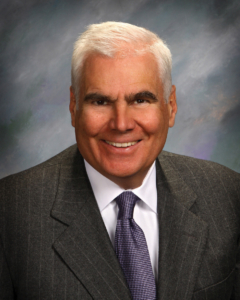 Bob Scinto was born and raised in Bridgeport, Connecticut. As the son of a plumber, Bob learned at a young age what it means to work hard and serve others. He also faced many challenges during his younger years, which molded him into the successful real estate entrepreneur that he is today.
When Bob was growing up, he graduated high school at a fourth-grade reading level. He struggled through school, battling dyslexia and anxiety that stemmed from having a speech impediment. 
After high school, Bob went to work for this father as a plumber for five years, earning $93.50 per week while attending Sacred Heart University at night. One day, after a very strenuous boiler removal, Bob thought to himself that there had to be a better way to make a living.
Fast forward to today, and R.D. Scinto, Inc. is one of the largest privately held Connecticut commercial real estate corporations. The company has 4.2 million square feet of space spread out across 53 buildings.
Here are the three principles that have guided Bob along his entrepreneurial journey, each of which is woven into every thread of RD Scinto Inc.'s operations. 
1. Compassion 
From a very young age, Bob learned the importance of being compassionate to others by observing the way his father helped his customers with plumbing repairs. 
When he thinks back on his career, one experience, in particular, stands out in his mind. Early on, Bob was called to unclog a toilet for a mother who had three crying kids in her apartment because they couldn't use the toilet. After the job was complete, the mother was so incredibly thankful for Bob's help. Her appreciation had a profound impact on Bob. 
When he was just beginning his career, Bob brought a camera along with him to his plumbing jobs so he could take pictures of people he saw around Bridgeport to understand their emotions, problems, and what made them happy. By being able to see things from their perspective, Bob was able to provide better services to these customers. Following in his father's footsteps, Bob makes a conscious effort to become more compassionate every day. 
2. Service
Bob believes that, when you serve others, great things can happen.
"Being of service to others is the number one call to any business," Bob explains. "Anyone is capable of leading a wonderful, successful life if you dedicate your life to serving others."
3. Imagination
Bob believes imagination is crucial to the success of any business career. By envisioning yourself as a better business person, you increase the likelihood that's what you'll become. 
"See what you are, become what you see," Bob explains.
Bob also maintains that you need to know the 5 F's in order to be successful in real estate. 
"You gotta have fun, you gotta be friendly, you gotta act fast, you have to be focused, and flexible," he says.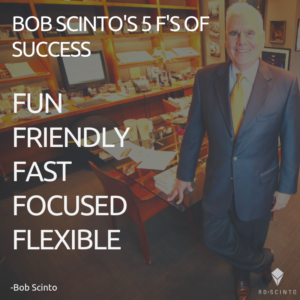 Bob's Guiding Principle
Bob's guiding principle is the Golden Rule, which is also a guiding principle of RD Scinto, Inc. It's simple: Treat others the way you want to be treated. Not only does Bob wholeheartedly believe this, he trains his employees to have the same mentality. 
"Before you try to discuss a problem with a tenant, put yourself in the tenant's shoes," Bob says. "Never say no to a tenant." 
Man of the Arts
Bob Scinto is also an avid supporter of the arts. 
In his corporate plaza in Shelton, Bob commissioned a replica of Michelangelo's David, as well as a recreation of Leonardo Da Vinci's Virtuvian Man by the renowned sculptor Babette Bloch. 
It should come as no surprise, then, that Bob was awarded the Patron of the Year Award from the Fairfield Arts Council and also received the Kennedy Center Vision Award.
Man for Others
Bob's commitment to service and helping others extends far beyond his real estate tenants.
Bob is actively involved with numerous charities. Most recently, he donated to a scholarship fund at Housatonic Community College Foundation. 
Bob has also received the Distinguished Achievement Award from the Connecticut Construction Institute and  the Bridgeport Rescue Mission Award for helping the homeless.
Check out the video interviews below to learn more about Bob's personal story and philosophy. 
The Real Estate Titan reveals what motivates him in the business climate.
Bob explains his relationships with tenants and how the company philosophy revolves around the golden rule.
We invite you to enjoy Bob's newest biographical article as found in the Fairfield County Catholic, published by author Joe Pisani.
Check out Bob's latest podcast interview through the Yankee Institute, entitled "Bob Scinto: From Plumber to Philanthropist and Real Estate Mogul"
https://www.buzzsprout.com/1938173/12032612-ep-35-bob-scinto-from-plumber-to-philanthropist-and-real-estate-mogul?fbclid=IwAR24FI4yh6juCPfUsDFh18xmF4XLSSaU_WRN4EKjpz5JD8gV8v_PsPDrbF0