Picking the right office plays a critical role in the success of your company. The perfect space can help inspire your team and make them more productive and optimistic about their workday and improve their interactions with their coworkers. 
If the goal is happy employees and a strong business, it's vital that you make the right decision when choosing an office. After all, if you have undesirable office space, it will also be harder to attract top talent and retain your best workers.
With that in mind, let's take a look at 10 things to consider when searching for office space in Connecticut.
1. Location
You want to find a location where people do not have to travel an hour-and-a-half in the morning to get to work and do it all again to get home at night. In such a scenario, your employees are already thinking about the drive home at 2 p.m., which causes them to lose focus and become less productive. 
The solution to this problem is finding a location in the center of a landmass so people can come to you from all directions. When you rent commercial property on the Connecticut coastline, for example, no one can come to you from the west because of its proximity to New York City and all the traffic. No one can come to you from the south, either, because of Long Island Sound, which is where the traffic comes from. 
When you are located in Shelton, it's a reverse commute from all directions and, most importantly, you can get to 85% of the state's population in less than 50 minutes. That is why the Shelton occupancy rate for commercial real estate is higher than every other town in Fairfield County. 
2. Labor Costs
Shelton's labor costs are 20 to 30% less than Stamford, Norwalk, Greenwich, and Westport. When someone doesn't have to commute three hours a day, that influences how much pay they need to live on. Shelton is located at the northern end of Fairfield County and has access to the valley towns—where housing prices are substantially less than the rest of the county. For example, a young couple can find a house in the low $200,000 range and commute to work in less than 15 minutes. One lady told us she took a $6,000 pay cut to come to work in Shelton because her time was more valuable than spending $500 a month commuting each day—on top of gas and wear on her car. 
3. Service
No one else in our state can deliver the same level of service that R.D. Scinto brings to their tenants every day. For example, we have 28 trucks on the road that do nothing but service tenants. The trucks are equipped with GPS, so when a call is made for service, we can immediately identify the closest truck to that building and get to that call within five minutes. These speedy response times are simply unheard of in our industry.

Each year, we send out a customer satisfaction survey to our tenants. This survey has an impact on employee compensation. The higher we score on the survey, the more money our employees get paid. In other words, there is a direct relationship between the level of service they deliver and the financial rewards they receive.

No one has ever left our service department. We pay above the market and we make sure that we have an environment where everyone feels encouraged and optimistic about their future with the company.

We also try to make it as easy as possible for our tenants to submit maintenance requests through our online portal or by contacting us directly. When these requests come in, our team works diligently to rectify any problems as quickly as possible.

Service is the key to our success. Don't just take our word for it: Ask any of our tenants if that is a true statement or not. We already know what they'll say.
4.
Growth
Because R.D. Scinto owns 53 buildings covering 4 million square feet of space, we can give our tenants the ability to grow without worrying about space. If, for example, you rent 4,000 feet from us on a 10-year lease and two years later you need 6,000 feet, we will rip up your lease and rent you 6,000 in one of our buildings. You simply cannot get that at any other commercial real estate rentals in the market because all other landlords are limited to one or two properties.

On the other hand, sometimes you might need to shrink from 10,000 to 5,000 square feet. Since we are so active in the marketing space, we see every transaction and can help downsize better than any other landlord. 
5. Architecture and Design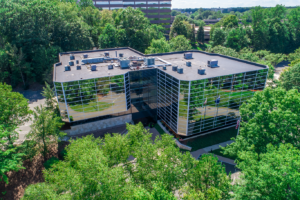 We have four full-time architects and their only responsibility is to make sure they give you the best design possible. As your business changes, you might like to have your space reconfigured. In such a scenario, other landlords would tell you you are on your own. At R.D. Scinto, we have architects and 14 carpenters on payroll. Their job is to make sure your space works perfectly all the time.
We have built over 50 buildings which we are totally in control of. There is no passing the buck with us when there is a problem with the building. We build, manage, and maintain all of our buildings. And most importantly, we have never sold any of them!

We are in this business for the long term. It is a family business. Everything we do, every decision, is generational. We're not interested in short-term gains. 
6. Reputation
We earn our reputation every day by the way we treat our employees and our tenants. We only need to say one thing about our reputation: Ask any of our tenants how they feel about being a tenant. Have they ever been treated better with kindness and consideration than they have been treated by R.D. Scinto?

We pride ourselves on treating all of our tenants the same regardless if they are leasing 520 or 250,000 square feet. Every tenant deserves the same amount of respect and service, and that is the essence of our reputation. 
7. Quality
All buildings owned and operated by R.D. Scinto have electronic monitoring devices on all HVAC equipment. We have a central control that monitors every zone valve in every building. If a zone valve is stuck open, we receive a notification at our headquarters. We then quickly send a mechanic to the problem zone before tenants know there is a problem.

Heating and air-conditioning—along with the quality of the air itself, which we measure 24 hours a day—is very important for productivity. You can't be too hot or cold and work efficiently. When the CO2 count gets above one part per million, the air becomes stale and workers become tired. To make sure our tenants don't experience these productivity drains, we have equipment that monitors the count and an entire division that is responsible for nothing but monitoring the HVAC.

In fact, we have people in that department that have been with us for over 25 years and are all licensed mechanics. 
8. Amenities
Our campus in Shelton, CT has every amenity you can imagine, including world-class restaurants and Starbucks. We also have four health clubs, a tennis facility, a basketball league, and more—all at no charge. Further, we offer free Italian Ice on Thursdays in the summer along with a farmer's market. To fully appreciate this atmosphere, you need to see the look on employees' faces when they come out of buildings to grab some tasty Italian Ice. 
One woman recently told us that she loves coming to work. How many employees across the state of Connecticut can say that? That is what a great amenities package does for you. 
9. Security
At R.D. Scinto, we take security very seriously. All of our buildings are equipped with state-of-the-art security features—including surveillance and card access systems—to ensure that our tenants' businesses remain protected 24 hours a day, seven days a week.
We have an experienced and professional security department. We have vehicles that check every building every night. We have over 200 security cameras in our buildings and they have a seven-day electronic recording memory. Our chief of security has been with us for over 20 years and we are very proud of our record.

Employees can come and check our security cameras to see when tenants come and go through the front entrance. That way, if there is a problem in any part of the building, they can identify who was in their space and at what time. 
10. Price
We are competitively priced in the marketplace and are consistently 99% leased with new tenants who are shopping for new space—and therefore know what a fair price is. 
We may be 5% higher than our competition, but we will give you 100% more value. 
That's just part of the Scinto difference.
Ready to find great office space in Connecticut?
For more than 40 years, the R.D. Scinto team has helped businesses like yours find the perfect  Connecticut commercial real estate solutions to their unique challenges. 
With over 4.3 million square feet of office space spread out across more than 50 buildings, we will work hard to make sure you move into a space that helps your employees succeed—and helps your business get to the next level.
To learn more about becoming a member of the R.D. Scinto family and helping your team work more productively together, check this out. We also invite you to take a look at our properties, see which spaces are available, and reach out to us if you have any questions. Also there is an opportunity to meet Bob and learn more about the company. 
We look forward to solving your business' real estate problems—and helping you delight your employees and customers along the way.
---
Learn More: